THE JEROME L. GREENE PERFORMANCE SPACE
Bringing Audiences One-of-a-Kind Experiences
The Jerome L. Greene Performance Space is WNYC's and WQXR's lab for new ideas, an incubator of fresh talent, a living-room-meets-public-square convening honest conversations about the life, art and politics of our city and our world. In Fiscal Year 2016, The Greene Space produced 112 events and sold almost 12,000 tickets. These shows reached millions of viewers and listeners around the world: 110 of them were streamed live online for digital audiences, 108 became online video on demand, and 35 were edited to become podcasts or radio broadcasts on WNYC or WQXR. The programming season included world premieres, original series and an incredible line up of talent and guests like Misty Copeland, George Takei, Chrissie Hynde, Anna Deveare Smith, Javier Muñoz, Ayad Akhtar, Ira Glass, Lea Salonga, Daniil Trifonov, Rosie Perez, Neko Case, Mark Bittman, Peter Sellars, Arturo O'Farrill and Cornel West.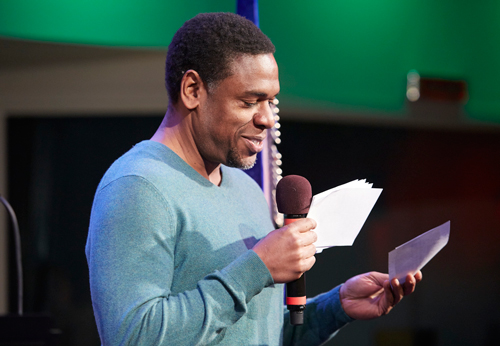 World Premieres
On November 21, 2015, The Greene Space hosted the world premiere of The World Is Round, by Arthur Yorinks. This production charmed kids and adults with its dream-like story that takes a mother and her daughter around the world from Africa to India to Haiti to Denmark. The show featured New York City public school students singing excerpts from an original opera by Israeli composer Ronnie Reshef.
On December 4 and 5, 2015, The Greene Space premiered The Soul Now Sings, a musical Christmas journey, composed and directed by Damien Sneed, that followed a New Yorker on a single December night, weaving classical, gospel and jazz music into a story about hope and transformation.
Original Series Highlights
In October 2015, The Greene Space launched Hodgepod, an ongoing monthly series giving audiences a unique opportunity to be in the studio as their favorite podcasters record brand new episodes live. Death, Sex & Money, Note to Self, Song Exploder, BuzzFeed's Another Round, The Sporkful, For Colored Nerds, Bullseye, Dinner Party Download, Ronna & Beverly, Modern Love, The Pub and Snap Judgment all participated in the first season of Hodgepod.
The Greene Space also teamed up New York City Center Encores! to co-produce Encores! Unscripted ― conversations and live piano-vocal performances that expand on the center's series exploring how Broadway musicals have reflected and shaped American life. In December, Tony winners Sheldon Harnick, Ruben Santiago-Hudson and Jeanine Tesori discussed how today's artists deal with the sexism and racism embedded in revivals from the golden age of Broadway. In February, legendary orchestrator Jonathan Tunick, music director Rob Berman and Tony Award-winning composer Jason Robert Brown taught a master class in how great arrangers and orchestrators can transform musical scores. In March, Who Tells Their Stories built on the Hamilton phenomenon with a discussion among Hamilton stars Javier Muñoz and Betsy Struxness, composer Michael Friedmand, director Garry Hynes about bringing historical figures to life.
The ongoing series the Next New York Conversation launched in February as Political Party with Keli Goff, a monthly series of live conversations that are post-produced as a podcast for WNYC. Author and journalist Keli Goff leads an eclectic group of thinkers, scholars and artists in clever, passionate and political, yet civil conversations, sidestepping the horserace to take a closer look at the people and ideas shaping our political landscape. The series has also included two live Convention Watch Parties, a Presidential Debate Watch Party, and culminated in an Election Night Party. Guests have included Congressman Charles Rangel, Rick Lazio, Rev. Dr. Calvin Butts, Ron Christie, Sister Simone Campbell, Imam Sohaib Sultan, Kevin Merida, Jose Antonio Vargas, Ari Melber and Sherrilyn Ifill.